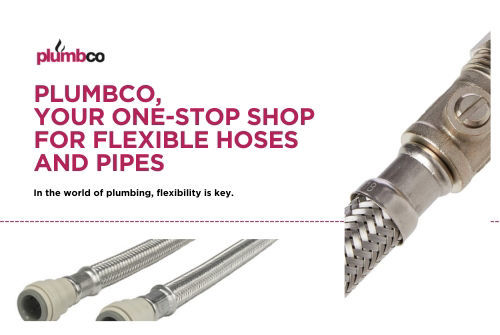 As homeowners or DIY enthusiasts, we often encounter situations where rigid pipes or traditional connections prove to be limiting and inconvenient. That's where flexible hoses and pipes step in, offering a versatile and adaptable solution for a wide range of plumbing applications. At Plumbco, we recognize the importance of flexibility and versatility in your plumbing projects, and we are proud to offer an extensive range of flexible hoses and pipes to meet your needs.
Versatile Applications for Flexible Hoses and Pipes
Flexible hoses and pipes are not just limited to plumbing connections. Their adaptability makes them suitable for a variety of applications, including:
Connecting appliances to water supplies: Flexible hoses provide a convenient and secure way to connect appliances like washing machines, dishwashers, and refrigerators to water supply lines.

Redirecting water flow: Flexible pipes can be easily used to redirect water flow around obstacles or into hard-to-reach areas, making them ideal for irrigation systems and temporary plumbing setups.

Drain connections: Flexible hoses are often used to connect sinks, bathtubs, and washing machines to drainage systems, providing a secure and leak-proof connection.
Plumbco's Comprehensive Flexible Hose and Pipe Selection
At Plumbco, we cater to the diverse needs of our customers by offering a wide range of flexible hoses and pipes, including:
Flexible tap connectors

: These connectors provide a simple and convenient way to connect taps to water supply lines, ensuring a secure and leak-proof connection.

Flexible pipe connectors: Our selection of flexible pipe connectors allows you to easily join pipes of different sizes and materials, providing a versatile solution for various plumbing tasks.

15mm flexible hose

: This versatile hose is commonly used for connecting appliances to water supplies and for temporary plumbing setups.

Flex pipe connections: These connections offer a secure and leak-proof way to join pipes, making them ideal for both permanent and temporary plumbing installations.
Unparalleled Quality and Performance
We are committed to providing our customers with the highest quality products, and our flexible hoses and pipes are no exception. Sourced from trusted manufacturers (such as Polypipe, Speedfit & Viva) and rigorously tested to meet the highest standards, our flexible hoses and pipes are designed to deliver exceptional performance and durability.
Expert Guidance and Convenient Collection
Our experienced staff is always available to provide expert advice on selecting the right flexible hoses and pipes for your specific needs. Additionally, we offer convenient collection from our Wellingborough branch, allowing you to pick up your chosen products at your own pace and without any hassle.
Embrace Flexibility with Plumbco
Don't let rigid connections hinder your plumbing projects. Explore our Plumbco-online website today to browse our extensive range of flexible hoses and pipes and unleash the power of versatility in your plumbing endeavours. With exceptional products, expert guidance, and convenient collection options, Plumbco is your one-stop shop for all your flexible hose and pipe needs.